Stories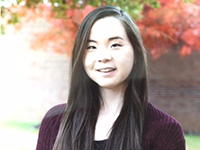 I had one of the most memorable experiences as a volunteer at Nice. I not only got to help business owners in Rikuzentakata but also formed many friendships that I will definitely keep for a long time to come. I still talk to many of my friends from the camp to this day, and we always talk about the awesome memories at the camp. One of these memories included catching our own fish with a large net and eating the fish that we caught for dinner--what a team effort! Also, I loved making a promotional video with my friends to sell soy sauce from the famous Yagisawa Brewery. Despite the long time spent on editing the video, we had so much fun filming it.
Because I have volunteered for Nice for three years already, I feel like I am part of the community every time I go back to Rikuzentakada. My volunteering experience is one of the proudest life experiences for me; so, I would highly recommend others to partake in this opportunity as well.
Emily Arakawa
After the Great East Japan Earthquake, Emily established a fund for the reconstruction work and had been petitioning in order to show how immense the damage was. While she did her best for the recovery, her desire to see what happened and to do something in the earthquake-hit area was getting stronger and stronger.
That's how she decided to join the Global Camp and she has participated every year since the time the program began.
She seemed to enjoy the program and saw it as a worthwhile endeavor because she was interested in sales promotion in English. I am sure that she did not have to do what she did to contribute to the reconstruction work. She looked much more matured while telling me her story with pleasure when she returned home. She made lots of new friends through this camp with whom she could see go in the same direction. She always keeps in touch with them even though they are far away from one another. It seems that friendship and experience in this camp became a wonderful treasure for her. She is looking forward to join the Global Camp as an assistant staff member this year.
Emily Arakawa's mother State of New Jersey, the U.S.A.